Finding a flexible job can feel near impossible for stay-at-home parents. Luckily, there have never been more online jobs for stay-at-home moms than there are now that allow you to set your own schedule and put family first.
Many jobs offer flexibility, remote working options, and promises of lots of income, but they can turn out to be a bust. These are all real online jobs for stay-at-home moms that you can actually use to earn income from home to support your family.
So whether you only have a few moments to work while the baby naps or are looking for part-time jobs, there's something on this list for you.
The Best Online Jobs for Stay-at-Home Moms
1. Bookkeeping
Bookkeeping is one of the best work-from-home jobs that earn you quite a bit of money from the get-go. All types of businesses need bookkeepers to keep track of income and expenses, so the demand is fairly high.
The average full-time bookkeeper earns about $45,560 per year. When working from home, you can choose to work part-time or full-time or start your own bookkeeping business. While the second one is more work, you have the potential to earn more as you set your hourly wage.
To start as a bookkeeper, you will need to take a course or training.
2. Virtual Assistant
Becoming a virtual assistant is a relatively new and booming career path. Virtual assistants work remotely and help business owners from afar with their day-to-day tasks.
Each position will vary in terms of services, but you can offer scheduling assistance, answer emails, book appointments, write social media posts, provide research, write blog posts, and more.
Most virtual assistants create their schedules and have multiple clients they help on an ongoing basis. You can source clients on your own or join an agency.
Want to know more about running a VA business from home? Sign up for Abbey Ashley's free training, Become a Booked Out VA!
3. Proofreader
If you're a grammar nut, becoming a freelance proofreader may be your calling. Proofreaders work in various capacities, but overall they ensure that a document is ready to be published or sent out. This requires high-level attention to detail.
You can proofread anywhere, so it's excellent for stay-at-home moms who are also on the go. Proofreaders can work in various industries, including tech, law, medical, editorial, and more. You can find many proofreading jobs through specialized websites where clients submit documents.
If this sounds like a good option, be sure to check out Caitlin Pyle's free proofreading webinar. You'll learn the signs that proofreading is the right career path for you, how to find clients, and lots more!
4. Tutor
Do you have a specific area of expertise? Chances are, you're pretty good with kids and have the patience to help them with their schooling by working as a tutor.
Becoming a tutor is great for those looking for a part-time job, as filling your schedule with multiple clients can be difficult.
There are also many opportunities for online tutoring, especially for teaching English.
5. Become a Blogger
The blogging world continues to thrive. Unlike social media, blog posts you wrote three years ago can still be relevant today!
While becoming a blogger doesn't give you an instant payoff and requires a few years to build an audience, it can be an incredibly fulfilling online job for stay-at-home moms. Plus, you can easily work on it during nap time for the kids.
You can choose to center your blog around whatever you love most. You can earn income through affiliate marketing, advertising, sponsored posts, products, courses, and more when you get enough views.
6. Freelance Writer
Freelance writing is a great way to make money in your own time, and contrary to popular belief, you don't need a degree or experience to freelance write. All you need is an internet connection, writing software, and a way with words.
Many businesses need writers to write blog posts, web pages, emails, newsletters, social media captions, product descriptions, grants, and more. You can easily find a niche within the community.
Freelance writing jobs are often listed on platforms like FlexJobs or Upwork, but you can also pitch yourself directly to businesses.
7. Sell on Amazon
Without a doubt, Amazon is one of the top e-commerce platforms that exists. Many businesses have utilized selling on Amazon to their success, and you can too!
There are a few ways to sell on Amazon. You can physically sell products that you have made and designed, sell products that you purchased for cheap at a higher cost, create print-on-demand designs, sell eBooks, and much more.
8. Transcriber
Working as a transcriptionist is a great role for those who type fast. Transcriptionists listen to audio recordings and then write out what is being said.
Many industries need transcriptionists, including lawyers, medical professionals, YouTube channels, and more. There are many websites that you can work for that can help you find transcription jobs in your area of expertise.
Most platforms will pay either by the audio minute or at a flat rate. The faster you type, the more money you make! For higher-paying transcription jobs, you may need previous experience or training.
9. In-Home Childcare
One of the best jobs for stay-at-home moms is providing childcare. Since you're already at home taking care of your own child, you can help other parents in your community by providing daycare or after-school childcare.
Like any business, you will need a license, insurance, business name, funding, and more to do it all right. Taking care of someone else's child is a big responsibility, so you want to ensure you're doing it all correctly and legally.
10. Social Media Manager
Take a look at any job board, and you will see a high demand for social media managers. It's almost a requirement that businesses have social media accounts. They require a lot of work to run, so many companies outsource that work to individuals.
As a social media manager, you can specialize in any platform you like, whether that's editing TikTok videos or managing a Facebook group.
For some roles, no experience is required, but you should have a love for the platform and know your way around it. You may also want to consider taking a social media management course to learn the business side of things. For more advanced social media jobs, you'll need prior work experience and/or a degree in marketing.
11. Photography
Do you have an eye for photos? If you love snapping pics wherever you go and often get complimented on your social media photos, you can earn income from your photography.
Many types of photographers are needed, including wedding, maternity, editorial, product, and headshot photography. It's one of the most flexible jobs since you book photography shoots that align with your schedule.
You can also go completely hands-off and sell stock photography. This way, you upload photos to sites and get paid a commission for every download of your image.
12. Become a Reseller
The reselling business has boomed thanks to the rise of apps and eCommerce platforms like eBay. Reselling is when you find used items at thrift stores, garage sales, consignment shops, and more and then sell them at a higher price.
Besides buying something and just selling it for a higher price, you can also try to make items better. Consider fixing up clothing or flipping furniture that you find from flea markets. Make something new again!
This is an excellent way to earn extra money while being a stay-at-home mom, though turning it into a full-time job can be challenging.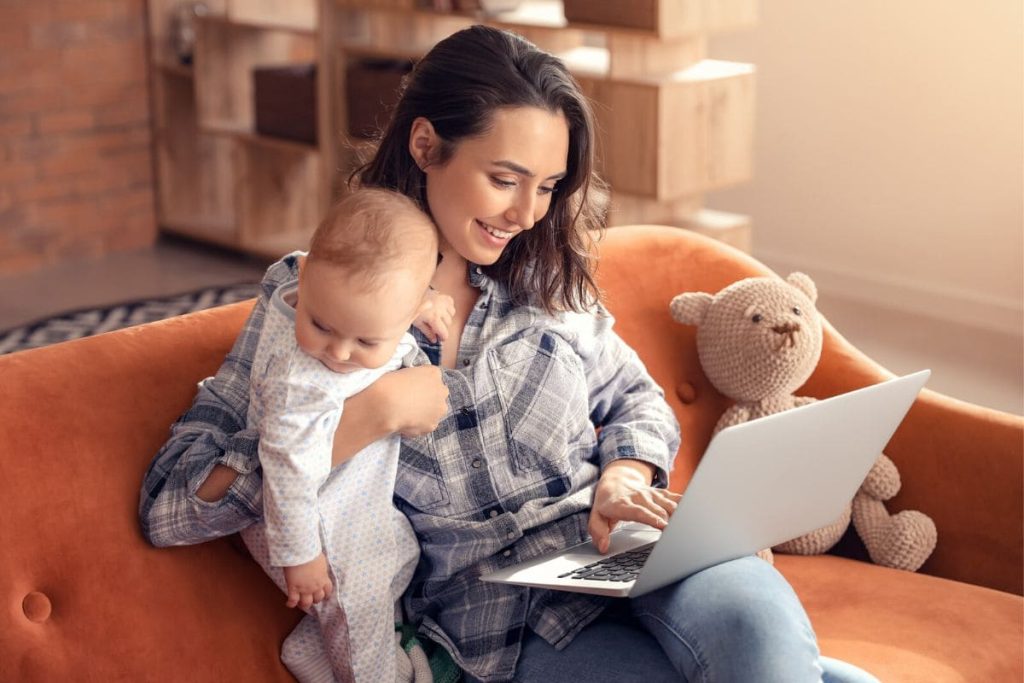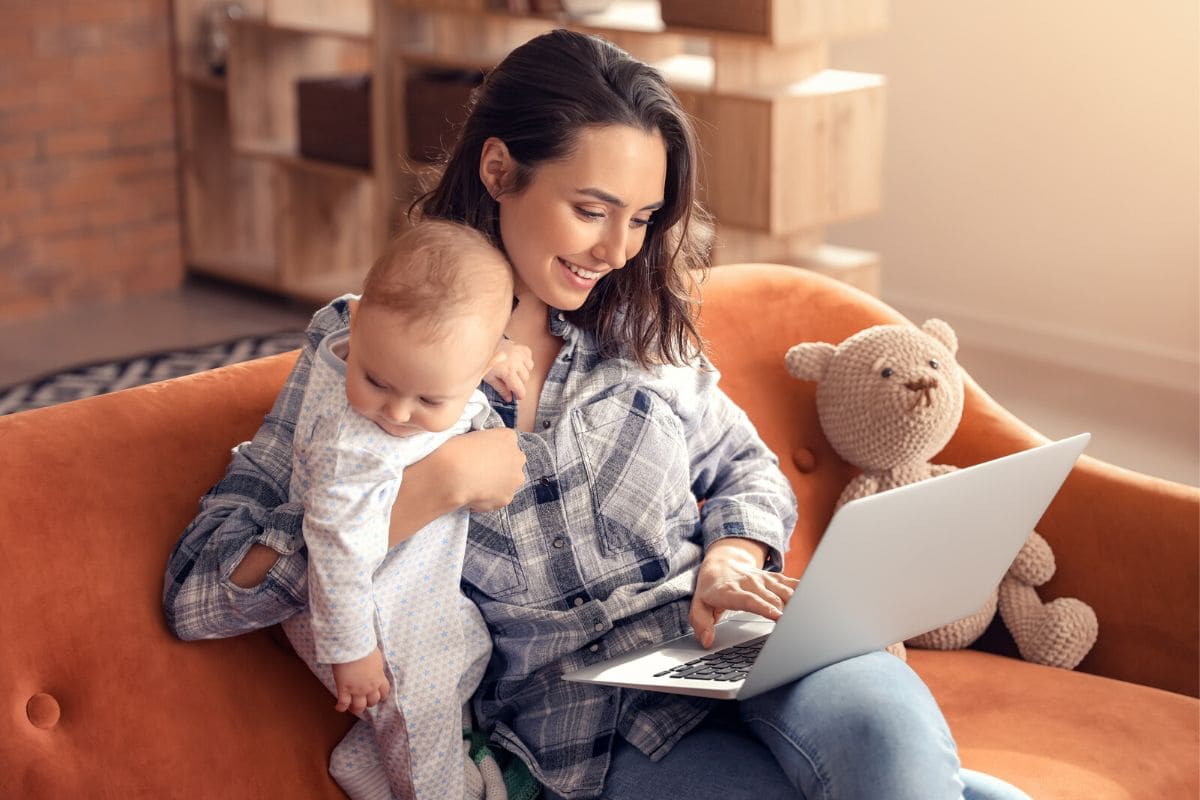 13. Work in Coaching
Coaching is a big business right now that continues to grow. More people want to become entrepreneurs and seek coaches to help grow their businesses.
Other people are looking for a life coach, such as an empath coach, sleep coach, self-esteem coach…you name it. If you have a subject you're passionate about and feel like you can help others succeed, you're well-equipped to start your coaching business.
14. Search Engine Evaluator
Becoming a search engine evaluator is a great online job for stay-at-home moms who lean towards the techy side. As a search engine evaluator, you review websites and pages and give them ratings according to Google or Microsoft guidelines.
In these independent contracting roles, you'll work part-time and make your own hours. However, this is a very competitive industry, so you will need to study diligently to pass the initial exam, which I've heard is quite challenging. The ideal candidate for this position is someone who is detail-oriented, has excellent research skills, and has knowledge of current events and trends.
15. Pet Sitting
Pet sitting is one of the best stay-at-home mom jobs for families that already have a pet in the house. Through apps like Rover, you can easily connect online with other pet lovers in the area looking for help.
You can set your rates and availability, making it ideal for moms with busy or irregular schedules. You can also determine the services you offer, though most will offer dog walking and pet sitting at their own home.
16. Customer Service Representative
Working in customer service is a great job for those who don't want to invest in any training and don't mind talking on the phone. As a customer service representative, you will answer customer questions and concerns via phone, email, social media, and online chat.
Most remote customer service representatives work on a set schedule to ensure the right amount of coverage to help customers. Most allow you to request specific hours to fit your schedule, and many have day, night, and weekend hours, but it doesn't have the same flexibility as other suggestions on this list for stay-at-home jobs. 
Conclusion
As you can see, there are plenty of flexible options for moms who prefer to harness the power of the internet and work remotely—just choose what fits best for your family.
Looking for more remote job leads and ideas? Sign up for our free newsletter, where you'll get fresh and new work-from-home job leads sent directly to your inbox.

#Online #Jobs #StayatHome #Moms