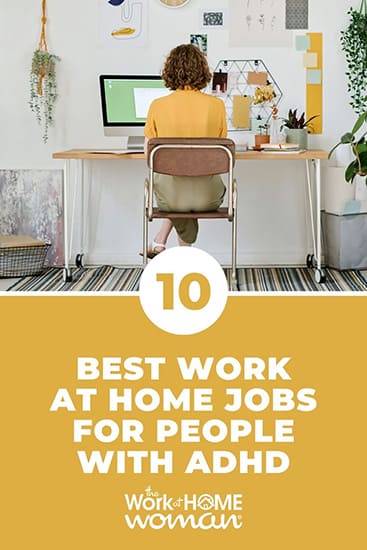 Workplaces can be a huge distraction for people with ADHD, which can cause stress and poor work performance. Remote work can be a fantastic alternative! That's why today, we're looking at the best work-at-home jobs for people with ADHD.
Attention deficit hyperactivity disorder (ADHD) is often thought of as a condition affecting kids. But this disability also affects adults, roughly 4-5% of Americans. And for those afflicted, working in an office environment can be detrimental to their mental health.
That's because offices are subject to constant external distractions, from impromptu meetings to water cooler conversations. Such triggers can overwhelm those with ADHD, resulting in decreased job performance, stress, anxiety, and even depression.
That's why many people with ADHD often find their place in high-intensity, active careers, such as police officers, EMTs, chefs, nurses, or even sports coaches. Those types of high-action, fast-paced jobs demand a lot of time away from home.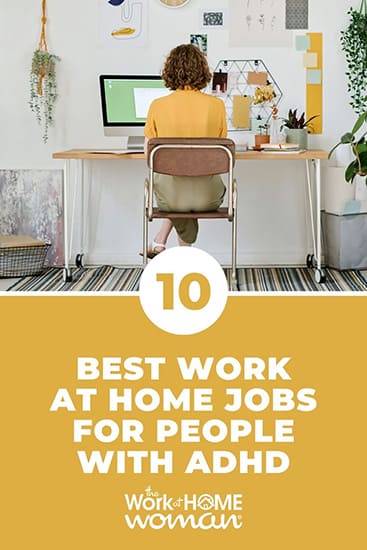 Managing Distractions to Work From Home Successfully
What jobs work for people who have ADHD and want to work from home? And can you focus at home and get the work done if you have ADHD?
The answer is a resounding yes. At home, you can create a workplace conducive to concentration and your personal needs. For example, you can make a dedicated workspace, wear noise-canceling headphones, and in many cases, work around your own schedule.
In fact, many people with ADHD find it easier to work from home, but it can have its own distractions too. So, using tools to plan, get organized, and stick to a schedule can be invaluable.
By controlling their environment and structuring the day around their natural energy levels, people with ADHD can minimize the likelihood of getting overwhelmed or burned out. But not all work-at-home jobs are great for people with ADHD. Ideally, the job should be structured, fast-paced, creative, and offer flexible scheduling. 
Here is a list of the best work-at-home jobs for people with ADHD that check those boxes.
1. Freelance Writer
Freelancer writers enjoy a flexible work schedule and the ability to work from wherever they want, making it one of the top ADHD-friendly jobs. This flexibility allows those with ADHD symptoms to avoid some of the triggers that can cause them difficulty in a traditional work setting. In addition, the freedom to choose your projects or assignments can give you a sense of control and mastery over your work.
What's more, the creative elements of writing can provide an outlet for expressing your ideas and passions. People who experience impulsivity may enjoy working for content mills where they can spontaneously pick up work whenever they feel they can focus. Other freelancers may prefer to create ongoing professional relationships with clients for predictable work and deadlines.
To get started as a freelancer, pick one or two topics (or "niches") that you like to write about, and write a few articles to use as writing samples. Then, you can publish them on your website or platforms like Medium and Vocal Media. After that, you can find work by pitching for gigs on job boards like Problogger. Alternatively, you can apply to content mills like Textbroker, WriterAccess, or SteadyContent.
2. Social Media Manager
Social media managers are responsible for creating and curating content, engaging with followers, and monitoring analytics. This type of work can be fast-paced and requires creativity and quick thinking, both qualities that people with an ADHD diagnosis typically possess in spades.
The tasks also vary daily, so there's always something new to work on, making it an exciting job that won't get boring. Yet, it is structured enough to support the development of time management skills.
There are several ways to find remote social media management jobs. One option is to search job boards like Monster, Indeed, and FlexJobs. You can also contact companies directly and inquire about any remote positions that might be available. Finally, freelancing platforms like UpWork and Fiverr also have a number of social media management gigs listed.
3. Virtual Assistant (VA)
Virtual assistant jobs are among the most flexible and varied work-from-home careers you can pursue! Not only are virtual assistants often able to set their own schedules, but they can also choose tasks or "specialties" that best fit their interests and skills, which helps prevent people with ADHD from succumbing to boredom or burnout.
For example, you might focus on tasks like blog management or editing marketing materials if you have strong writing skills. Or, if you enjoy talking with people, many VAs specialize in handling customer inquiries by phone or email.
There are also VA jobs involving project management, administration, data entry, podcasting, and more. In addition, many virtual assistants find that they can build strong relationships with their clients, which often provides a sense of satisfaction and purpose.
Virtual assistants are in high demand, so there are many places to find the perfect match for you, including Byron, Zirtual, and Belay Solutions. Networking on social media is another excellent way to find VA work, primarily through LinkedIn and Facebook.
4. Graphic Designer
The nature of graphic design work is well-suited to people who thrive on variety and tend to get bored easily. On a typical day, a graphic designer might be working on a range of projects, from designing website graphics and logos to advertising campaigns and product mockups. 
The broad spectrum of work and creativity required for the job makes it an excellent fit for ADHD people. And many graphic designers are able to work entirely from home.
If you're interested in pursuing a career in graphic design, you can take a few different routes. If you need to brush up on your skills, you can start with an online course on Skillshare or Udemy to learn how to create graphics. Or, you can learn to make simple professional graphics using Canva.
Once you have the skills, you can find work by applying to a design studio or agency; openings for such jobs are often found on ZipRecruiter and Indeed.
Alternatively, you can start your own freelance design business and offer your services on a platform like 99designs. You can also sell your designs on merchandise like t-shirts and mugs through a platform like RedBubble.
5. Remote Tech Support
There are many different types of remote tech support jobs. These positions can include anything from providing customer service for a software program to helping customers troubleshoot technical issues with their computers or other devices. In most cases, remote tech support jobs require strong customer service skills and an excellent technical knowledge base.
There are many reasons why people with ADHD may find tech support to be a good job fit. For one, it can provide the structure and routine that many people with ADHD need to stay on task. In addition, tech support allows you to problem solve, which can be stimulating and engaging.
There are lots of companies that hire for remote tech positions, including Apple, Asurion, NoDesk, Support.com, and Dice.
6. Programmer or Software Developer
Many people with ADHD find programming is one of those career paths that work well for them. This is because programming requires a high level of focus and concentration. While those with ADHD often have difficulty concentrating on tasks that aren't interesting to them for long periods of time, they can easily hyperfocus on jobs they find interesting or challenging.
Remote programming also provides the ideal work environment in that employees can work independently and at their own pace.
To get a job as a programmer, you will typically need a degree in computer science. You can find remote programming jobs in many places, such as We Work Remotely, Indeed, and ZipRecruiter.
7. Business or Career Coach
People with ADHD often make terrific business coaches because they can be their own boss while using their strengths to help others succeed. As an entrepreneur and small business owner, you can direct your high energy and creativity toward developing new business strategies with clients or coming up with creative potential solutions to their challenges. 
Additionally, business coaches frequently work independently, so the career can be ideal for those who prefer working alone or have trouble focusing in a traditional office setting.
And because business coaches usually tackle short-term projects, it is a great way to begin a new career without necessarily being committed long-term.
Business coaching typically requires a bachelor's degree in business or training from an accredited program. You can find clients through social media, networking, ad placements, and digital marketing.
8. Personal Shopper
Personal shoppers help their clients find the perfect food, clothes, gifts, or other items. They need to be able to pay close attention to their client's needs and preferences and then use their creative thinking skills to find the right item.
Professions such as this one can be both challenging and rewarding for people with ADHD. It allows you to exercise your energy and creativity while providing structure and a sense of achievement.
Personal shopping usually doesn't require any previous experience, and many job options exist. For example, Instacart is a grocery delivery service that hires personal shoppers to pick up and deliver other people's groceries. Another opportunity is Shipt Shopper, a personal shopping app for stores like Walmart and Target. Last but not least, the TaskRabbit app is a great place to find personal shopping gigs, among other types of jobs.
9. Copy Editor
With so much content being created on a daily basis, editors are constantly in demand! In fact, if you can harness your attention and have an eye for detail, this field offers the ability to create the full-time job you need with the flexible hours you crave.
Editing has become a vast field that encompasses the written word as well as video and audio editing opportunities, so people with ADHD can find what interests them and stick with it or enjoy variety. Plus, the projects tend to be relatively short and varied, so monotony isn't something you'll have to deal with.
To become a copy editor, you can take an online course on Skillshare or Udemy to learn everything you need to know and fine-tune your skills.
Find work on sites like LinkedIn, Upwork, Best Writing, Kibin, and more.
10. Dog Walker
If you love animals, dog walking can be a gratifying job. It can calm and focus the mind while providing an outlet for excess energy. Dog walking is also a lot of fun, and spending time with different dogs each day can be an absolute joy.
While you don't need much experience or training to become a dog walker, it does require some planning and organization.
Many websites and apps help match pet owners with dog walkers. For example, Rover is perhaps the best-known dog walking app and offers an extensive network of walkers and dog owners. But you can also try websites like Wag!, Care.com, and Petsitter.com.
Conclusion: Remote Jobs For People With ADHD
Overall, people with ADHD can find career success in many fields. But these are some of the best jobs for people with ADHD who want to use their unique strengths and abilities in a productive way. They offer the flexibility and freedom that are beneficial for people with the types of ADHD that make it difficult to focus in an office environment.
Most importantly, they can provide a sense of purpose and satisfaction that's often lacking in traditional jobs. So if you're looking for a role that will make the most of your strengths as someone with ADHD, there's a good chance that one of these options is the right job for you!
Fast-track your remote job search with this FREE 5-Day WFH Starter Guide, and quickly land a work-from-home job that you LOVE!
Originally published July 4, 2022. Content updated July 2023.

#Work #Home #Jobs #People #ADHD