If you're internet savvy, self-motivated, and searching for a flexible work from home job, becoming a search engine evaluator could be an excellent opportunity for you. You don't need any special equipment, and there's no speaking on the phone. All you need to get started is a laptop or desktop computer, a high-speed internet connection, and a smartphone.
Remember, though, that the work from home world is highly competitive, so be prepared for extensive training and a qualification exam; plus, you'll also need to have sound knowledge of current events, popular culture, places, and people.
If you think you have what it takes, let's explore what a search engine evaluator does, how to find a job, how much it pays, and the pros and cons of this
What Does a Search Engine Evaluator Do?
A search engine evaluator evaluates search results and webpages (and sometimes ads and social media platforms) and rates them according to the guidelines given by Google or Bing, to ensure that users find the most helpful and relevant information on any given topic.
Do a quick internet search for something, and see what the results are. Are they relevant? Can you find exactly what you're looking for? A lot of time and effort goes into creating algorithms, that give you those results, but Google doesn't always get it right.
Robots aren't always good at interpreting intent, especially if it's a string of unrelated words rather than questions. That's where a search engine evaluator comes into the equation.
What are the Requirements to Become a Search Engine Evaluator?
Google contracts companies to perform search engine evaluations, and those companies then hire you as an independent agent. You don't need to have experience or a college degree, but there are several testing stages to get through first and a lot of guidelines to follow. You will need to put the work in initially, but once you learn the procedures and get your foot in the door with one of the companies, you can have a fun and flexible ongoing job for years to come.
For positions, you'll need to be a native English speaker at least 18 years of age. You should have excellent communication and computer skills. You'll also need to be up-to-date with current business, media, sports, news, social media, and cultural affairs in the US. Lastly, you should be detail-oriented, have strong analytical skills, and enjoy doing online research.
How Much Do Search Engine Evaluators Get Paid?
The hours available and the hourly rate depends on the project and the company. Sometimes the need is immediate or large, so set your availability on your profile and check in regularly to snag any jobs quickly. You may have a minimum number of set hours or a limit to the hours and weekly projects you can work on. The pay averages $17 per hour, depending on where you live and the company for which you work. You can work part-time or full-time, so it suits introverts, stay-at-home parents, college students, or those looking to supplement their income.
Where to Find Search Engine Evaluator Jobs? 
Appen
Appen, which acquired Leapforce, hires independent contractors for short-term and long-term projects like transcription, translation, social media evaluation, and of course, search engine evaluation. With Appen, you'll create an account and apply to projects. Some projects will require you to take and pass a qualification exam. Once approved, you can work on tasks during your spare time. According to Glassdoor.com, the median salary for search engine evaluators is $21 per hour. 
Appen receives a 3.7-star rating on Glassdoor.com.
Centific
Centific hires part-time internet evaluators to give feedback on search queries. In these roles, you'll have a flexible schedule, and you'll earn $12 per hour. You must be a native English speaker, and you'll need to pass their certification to begin working on projects.
Centific receives a 3.6-star rating on Glassdoor.com.
Teemwork.ai
Teemwork.ai, formerly iSoftStone, hires freelancers for linguistic, testing, technical, search engine evaluation, and crowdsourcing gigs. For these positions, you'll need excellent communication skills, strong computer skills, and a PC running running Windows OS. While you'll have a flexible schedule, you'll need to commit to at least 10 hours per week. According to Glassdoor.com, Teemwork.ai pays an average of $23 per hour.
Teemwork.ai receives a 3.8-star rating on Glassdoor.com.
TELUS International
TELUS International, formerly Lionbridge, hires online data analysts to determine the relevancy and accuracy of search engine results. In these roles, you'll work as an independent contractor, and you can create your own schedule. TELUS also has AI openings for internet assessors, ad quality raters, online mystery shoppers, and more.
TELUS International receives a 3.6-star rating on Glassdoor.com.
What are the Pros and Cons of Being a Search Engine Evaluator?
Pros:
The schedule and workload are flexible.
You're your own boss.
No technical expertise is necessary.
The pay is decent for this type of online work.
No software or special equipment is necessary.
You don't need a college degree.
No phone work is required.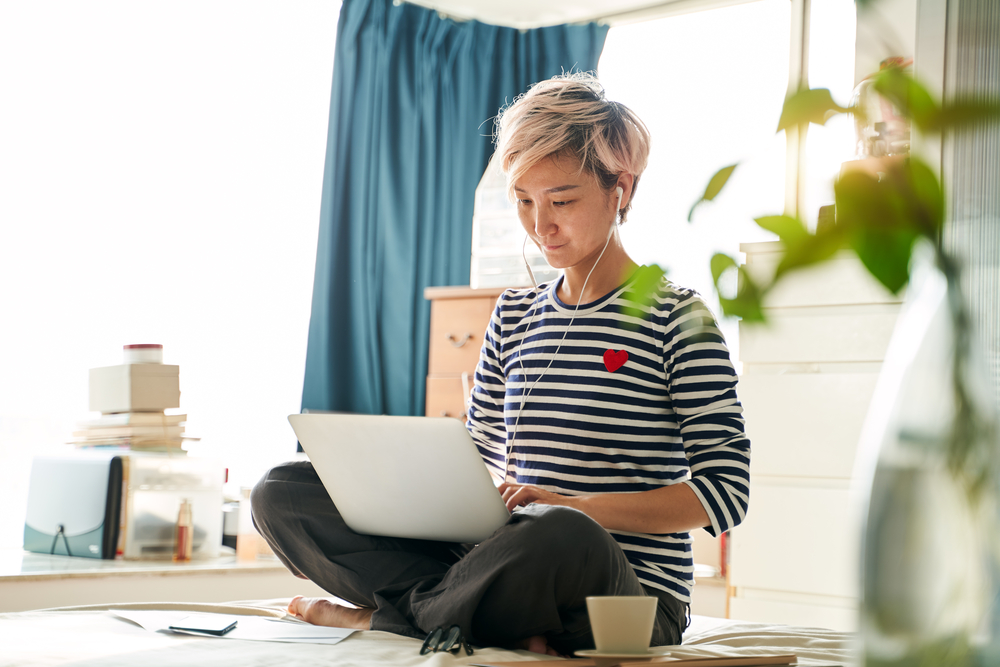 Cons:
Work hours can be limited.
The work is project-based, so there may be waiting between projects.
You won't have guaranteed hours.
As an independent contractor, you will be responsible for your taxes.
Projects can end unexpectedly and without notice.
Is Search Engine Evaluation a Good Work From Home Job?
Now that you know what a search engine evaluator does, what you need to get started, how much it pays, and you've weighed up the pros and cons of the industry—what do you think? Are you willing to give it a shot?
If you're looking for some extra income, lots of flexibility, no start-up costs, and minimal prerequisites, then this job opportunity could be perfect for you. To make it work, you just need to put some plans in place for the downtime between projects or if contracts suddenly end, perhaps with another flexible work from home job. That's the beauty of working from home: You can have more than one income stream to fit in with your needs and lifestyle!
If you're looking for a way to turn this into a full-time job, you may want to consider becoming an SEO (search engine optimization) specialist. Go here to learn more about becoming a home-based SEO specialist!
Originally published June 22, 2020. Content updated September 2023.

#Work #Home #Search #Engine #Evaluator